Structural Insulated Panels by Crockett allow your ideas take shape quickly and reliably.
Be sure that your next home or addition is built with the best energy efficient materials available. Whether you are interested in keeping your heating and cooling costs down for monetary or eco-friendly reasons — or both — SIPs (Structural Insulated Panels) are the best choice.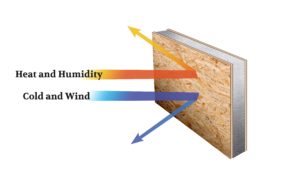 Versatile
Time Saving Construction
Energy Efficient
Comfortable
SIP Custom Homes
SIP Log Homes
SIP Post & Beam Homes
SIP Timber Frame Homes
Ultra-R SIP Savings
Choose a Crockett Ultra-R SIP energy efficient home with R-26 walls and R-49 roof, and be assured that you are about to move into an affordable and highly energy-efficient house that will save you money in energy bills for years to come.
A Crockett Ultra-R SIP energy efficient home, unlike traditional stick frame home construction, has its insulation built right in… which reduces thermal breaks and creates a "tight" home. Both heat and cool air stay in when you want it; air and moisture from the outside are less likely to penetrate inside the home. SIP energy efficient homes are also quieter and cleaner than homes constructed from stick frames.
Crockett offers creative design and engineering services for complete shell material packages at very competitive prices.
We will work closely with you – listening to your concerns and answering any questions – every step of the way. Our 3-Step Design Process – including creative design and structural engineering services — strives to achieve the energy efficient timber frame home you've always dreamed of, within budget.
Find out more: Call 1-800-566-7714 today or email us to find out how to start planning the SIP home of your dreams!