Paradise PA Post & Beam Timber Frame Homes
Are you ready to build your dream timber frame home in the Central Pennsylvania 17050 area? For over 40 years, Crockett Log Homes® has provided plans, building materials, kits and expertise for Paradise PA timber frame homes.


Paradise PA Timber Frame Homes: Done Right and Done Your Way
Our rugged Pennsylvania timber frame homes are built with a post & beam solid timber second floor system, ridge posts and ridge beams. Crockett fastener and sealant systems combined with code compliant, structural engineered stamped plans ensure that your Pennsylvania post & beam timber frame house will be there for you as long as you want.
You can build your timber frame home yourself with the years of Crockett's building and general contracting knowledge as a resource, or your independent Crockett Builder Dealer offers general contracting services in the Paradise PA, 17562 and central PA areas.
Contact Marv or Vern for your dream timber frame home the Paradise PA area today:
Denlinger/Fisher Builders
Marv Fisher Vern Denlinger
94 Mount Pleasant Road
Paradise PA 17562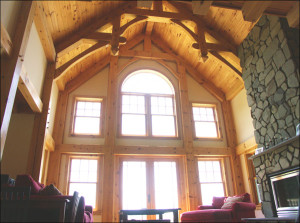 Over the years, Vern and Marv have worked closely with homeowners in the area and throughout central Pennsylvania. They listen to your concerns and answer your questions every step of the way. Crockett's 3-Step Design Process includes creative design and structural engineering services. Crockett also strives to give you the important home features that you desire, while working with you to keep the project under budget.
Live the good life and enjoy every day in your Crockett Timber Frame Home through the coldest central PA winters to the hot, humid summers. Ultra-R Insulated Wall Logs, Crockett's Ultra R SIP series, are available in all of the above Log profiles and sizes.