South Shore Massachusetts log home, timber frame post & beam builders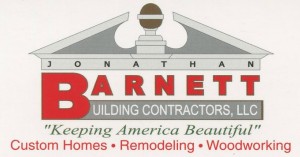 Jonathan Barnett is a general contractor who offers custom home building and remodeling in the South Shore area of Massachusetts.
Jonathan also has had experience at kitchen and bath remodeling, attic and basement renovation and building new additions to existing homes.
Barnett Building Company would be glad to discuss your upcoming log home or timber frame project to help you achieve your new home dreams.
Barnett has been building new homes in the South Shore MA area since 2001.
Barnett Building Contractors
Contact:  Jonathan Barnett
Kingston, MA
Phone:  781-706-9257
Email:  JBarnettBuilding@comcast.net
Website:  www.BarnettBuildingContractors.com